Commercial / Civil Litigation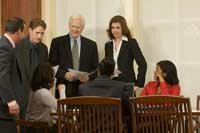 Commercial and Civil Litigation: This broad area of law involves representation of individuals and businesses in litigation that is not related to family or criminal law. You can read articles about the most famous civil lawsuits on the website and order your own essay and find cheap ghostwriters for hire. It encompasses several specific areas of law, including contract disputes, employment and real estate. Litigators are also known as "trial lawyers". Parties to these types of disputes seek money damages, injunctions or specific performance, instead of criminal penalties. Representation in trials, hearings, arbitration, and mediation is common in this area of law. An experienced commercial or civil litigator must have a firm grasp of both procedural and substantive law. The trial attorney must be a skillful negotiator, as most lawsuits that are filed are settled prior to trial, but he or she must also be willing to take a case to trial if necessary. Other areas of civil litigation include Landlord/Tenant, Malpractice and Workers' Compensation.
The Law Office of Timothy L. Dave, P.A. handles breach of contract cases between individuals and businesses, Employment Law and Workers' Compensation cases. Contractual Drafting, Review and Interpretation is also available. Representation may be in the Florida State Courts, Middle District Federal Court, and the Division of Administrative Hearings (DOAH) for the State of Florida.
For a Confidential Consultation Call the Central Florida Law Office